In this age of social media, every win is projected to the world for people to celebrate. Celebrity and non-celebrity alike.
But the comparison never ends; the
fan wars
never stop. Devoted fans are always looking for a way to show that their idol is better than the next person.
When one person wins, they make it so another person's win looks counterfeit. It happened again recently.
BBNaija's
Nengi
became the first woman to announce that she bought a house after the last edition of the reality TV Show. On her Instagram she posted a picture of the magnificent building with the caption:
2021 just keeps getting better. With consistency, dedication, and hard work, I finally get to tick this off my checklist. Thank you Lord for continued blessings. Can't wait to play table tennis with my friends in my 'Pengi' home.
While congratulations were pouring in from all corners of the web, loyalists started another comparison on Twitter about Nengi being the most successful housemate, causing fellow TV Star
Ka3na
to declare that she had gotten her first house before she went on the TV Show.
Less than an hour later she deleted the tweet, but we got it in good time.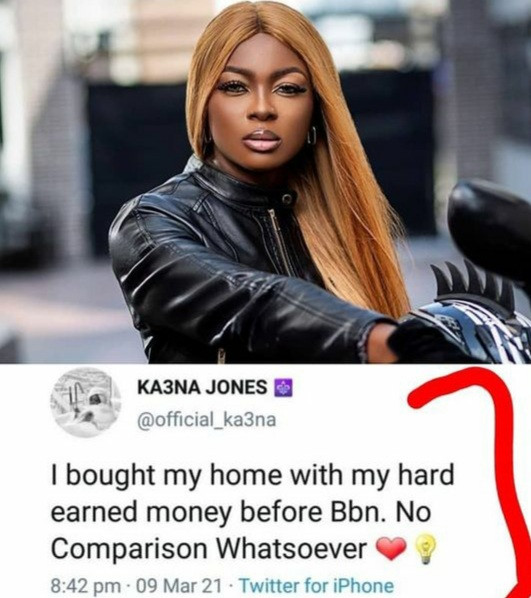 Under this post people believed Ka3na was looking for engagement on social media
Ada
The funny thing here is ka3na likes engagements and so she likes tweeting to cause wahala, but las las Knife people don't have sense like their fave,they still engage. After all they engage all posts, called or not
Ka3na's response was not well received either. A microblogger decided it was the right time to compare Ka3na and Nengi's timeline and asked Ka3na what she was doing at certain ages when Nengi was working to get a better life.
In response to the people slamming for underplaying Nengi's achievement, she tweeted:
While you're busy dragging me, hope y'all know social media apps are developed on servers?? If it crashes today hope you have a real life hustle to fall back on?? Stop trolling and start building your empire. Abi you too no wan buy house ni
CRUISE


A tweep was more concerned about how it was Nengi who bought a house for herself and not that fans gifted it to her
Big Uncle
I like the fact that it's not tagged
"fans gift Nengi a house" There's no need to be lying when you buy something with your own hard earned money. THAT'S HOW QUEENS DO.
In a fresh tweet, BB Naija alumna and social media influencer
Tacha
made a public announcement to the world on social media to not associate her wins with anything except her
hard work.
Whatever y'all lots do!! Do not I repeat associate my WINS to nothing else than HARD-WORK SWEAT SLEEPLESS NIGHTS VISION STRENGTH COURAGE!! ZEAL! RESILIENCE! GOD AND STRONG WILL!
Never had nothing easy for me!! At AGE 25 I own 3 REGISTERED BUSINESSES UNDER SYMPLYTACHA NIGERIA LIMITED - NLNT89 sports wear brand! - EVERYTHINGTACH
A online store! - EVERYTHINGTACHALOGISTICS! Don't fo*l yourself!
The final thread made it clear that Tacha was not anybody's mother's mate.
So when next y'all is talking your Bullcrap! PUT RESPEK ON MY NAME! I'M NOT YOUR MOTHER's MATE!!
Image credit: Instagram