Nearly 20 years after making her Nollywood debut, Mercy Johnson remains one of Nigeria's most-loved actresses.


She has starred in over 80 movies and shows no signs of slowing down.


Mercy was inspired to become an actress after following
Genevieve Nnaji
's career.
She has stated in interviews that she became a big fan of Genevieve's after watching her movie Sharon Stone.


Here's a look at Mercy Johnson's biography.


Mercy Johnson Age
Mercy Johnson was born on August 28, 1984. She celebrated her 35th birthday in 2019 with a special photo shoot. Mercy shared the new pictures of herself on Instagram.


"Happy Birthday to me.....to be wiser is all I pray...." she captioned one of the images.
Read Also:
Who Is Oge Okoye
Mercy Johnson biography
Mercy Johnson grew up in Okene, Kogi State. She later moved to Lagos, where she completed her primary school education. Mercy was also a learner at Rivers State Secondary School and Nigerian Navy Secondary School.


Mercy started her professional acting career in 2002. She was a teenager at the time and had just completed her secondary school education. Mercy got her big break when she starred in The Maid. She played the lead role in the film and became an instant star.


She got to work with her favourite actress, Genevieve Nnaji, in Into Temptation.


Mercy has also starred alongside Olu Jacobs, Monalisa Chinda, Rita Dominic and Chioma Chukwuka.


While many celebrities have heaped praise on Mercy, one actress is not a big fan of the star.


Sonia Ogiri slammed Mercy in an Instagram post she titled "Healing Process".


She claimed that Mercy hated her for no reason and did not bother hiding it.


"Hey sis @mercyjohnsonokojie I think [it's] time to talk about all the pain you inflicted on me all [these] years in order for my healing process to take place. I hope MOTHERHOOD have changed you," Sonia wrote in September 2019.
Also Read:
Nigerian Celebrities That Are Cultists
Despite the drama, Mercy continues to flourish in the industry. She also has her own cooking talk show called Mercy's Menu.


She started working as a senior special assistant (SSA) to the Kogi State governor on entertainment, arts and culture in 2017.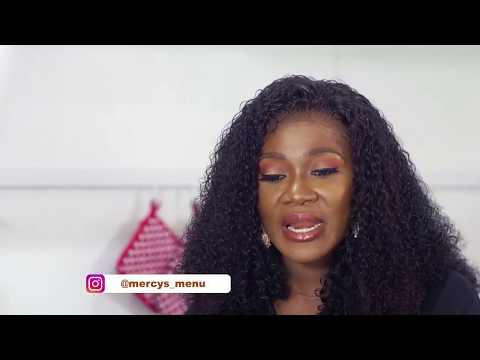 Mercy has won several awards including, 'Actress Of The Year' at the 2018 Eloy Awards.


Mercy Johnson Movies
Mercy Johnson has starred 80 plus movies since 2002. Here's a look at some of her top films.


1. Dumebi the Dirty Girl
2. Heart of a Fighter
3. Married to the Enemy
4. Mirror of Life
5. Royal Tears
6. Live to Remember
7. The Maidens
8. Heart of a Widow
9. 16th Anniversary
10. Seven & a Half Dates
Mercy Johnson Husband
Mercy Johnson's husband is Prince Odianosen 'Odi' Okojie. Odi is a politician and philanthropist. The couple met in 2008. Prince proposed to Mercy with a square-shaped diamond engagement ring. They tied-the-knot in a lavish wedding ceremony in 2011. The couple were rumoured to be having marital problems in 2018 but they remain stronger than ever. Mercy has described Odianosen as her "strength and pillar". She uses the name Mercy Johnson-Okojie on social media.


Mercy Johnson Children
Mercy Johnson has three children with her husband Prince Odianosen Okojie. Their eldest daughter Purity Ozioma Okojie was born on December 30, 2012. Henry Okojie, who is their only son, came into the world on October 15, 2014. Angel Okojie was born on December 11, 2016. Mercy has described her children a her "entire essence".


"When they are home, I get tired and once they leave, I start to miss them.....May God keep all our kids safe for us at all times," she wrote on Instagram in September 2019.


Mercy Johnson Family
Mercy Johnson's parents are Daniel Johnson and Elizabeth Johnson. She has six siblings. Her father is a former naval officer. Mercy's mother died in 2018.


"I never expected to lose my mother so soon, and so suddenly, but it happened, life happened. No one can teach you how to cry with every fibre of your being and when exactly to stop crying. No one can truly teach you how to properly mourn a loss or fill up the empty painful, endless hole that death leaves," she wrote on Instagram.


Mercy Johnson Hairstyles
Mercy Johnson is known for her changing hairstyles. She has worn her hair short, long and tried several different colours including red and blonde. She uses weaves, wigs and braids to create stylish hairdos.
Mercy Johnson diet, exercise
Mercy Johnson's slim figure is the envy of many, with scores of her fans constantly asking her about her weight-loss secrets. The mom-of-three has credited a balanced diet and exercise for her amazing body. Mercy has an Instagram page called 'Mercy Magic Online' dedicated to her weight loss program. Not only does he share meal ideas on the page but she also sells flat tummy and detox teas.
Mercy Johnson dead
In 2011, a rumour was started that Mercy Johnson was dead. A gruesome picture showed the actress with a badly injured eye. Many believed that the injury occurred on a movie set and led to her death. But it turned out the image was part of a publicity stunt for one of Mercy's movies. The stunt got out of hand when several bloggers claimed she was dead, when in fact she was alive and well.


Mercy Johnson House
Mercy Johnson and a family live in a house located in Thomas Estate, Ajah. Her husband reportedly bought the Lagos mansion for her in 2013. Prince Odianosen surprised her with the home when they returned from a trip to America. Mercy rarely shows pictures of the home on social media but judging by the few she posted it is huge.


Mercy Johnson net worth
Mercy Johnson's exact net worth is unknown, but several reports have placed her wealth at around ₦600 million ($1, 6 million). Her main source of income is her work as an actress. Mercy is also a senior special assistant to the Kogi state governor (entertainment, arts and culture).


Her Mercy Magic products and endorsement deals with big companies also generate income.