Yesterday the 8th of October 2020 Nigerian Celebrities from the entertainment industry along with many Nigerian youths trouped
to the streets en-mass to make their voices heard on the growing concerns of extortion and brutality on many innocent Nigerian youths by officers attached to the Special Anti Robbery Squad (SARS) in the Nigerian Police Force.
The number of cases of brutality by Police officers attached to the Special Anti Robbery Squad in Nigeria is on a rapid rise and is not a new story neither is it a strange one, on different occasions, the youth have cried out about these illegal and unwarranted actions of these SARS officers, have taken many innocent lives, the main directive given to the officers of SARS was to tackle and deactivate the operations of armed robbers, but they abandoned their directives and molest innocent youth.
Each time there is a large public outcry about the illicit activities of SARS operatives, the relevant authorities always come up with reforms and bans that would check the excesses of these rogue officers but these reforms and bans have proven ineffective as SARS brutality has still not stopped. This is the reason many Nigerians are calling for the total scrapping of SARS and more effective reforms for the Nigerian Police Force.
The 8th of November protest in Lagos was very special because of the physical presence of some top Nigerian Celebrities who came out to join their fellow youths in protesting against SARS brutality because they have also been affected by it in one way or the other. Though the protest in Lagos was even fixed by
popular Nigerian singer Runtown
, it showed that if we all come together to speak with one voice we could achieve something great.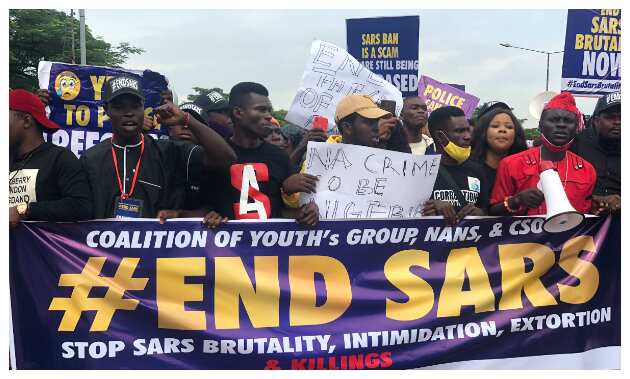 While a few celebrities remained silent on the matter some took to online media outlets to voice their grievances and opinions on some of the illegal and inhumane acts perpetrated by rogue operatives of the Special Anti Robbery Squad (SARS) some other celebrities decided to take to the next level by involving physically in peaceful protests against SARS brutality. Below is the long list
image credit: Instagram
Also Read:
#EndSarsBrutality: Naira Marley Postpones Planned Protest