Toke Makinwa is a leading Nigerian media personality. She is a radio host, television host, author, a presenter and she's also quite famous for her YouTube videos.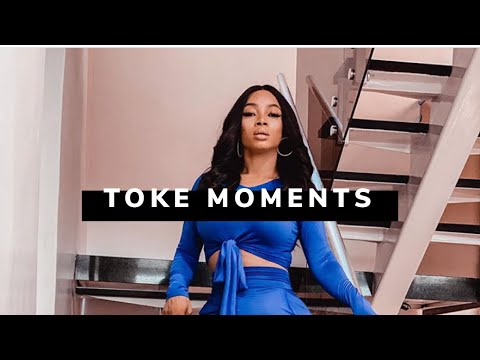 She might seem like she's the happiest because she has it all, but her life has not been without challenges. She managed to survive the tragedy with her parents and betrayal of her ex-husband.
She's always said that she never had a plan on how things in her life were going to go, but she always attributes her success to God. She likes to call herself a 'Jesus girl'.
She is an inspiration for anyone who wants to build a good career in Nigeria.
Let's take a look at one of Nigeria's most interesting personalities.
Toke Makinwa Netflix
Toke Makinwa
took to Instagram to share her excitement for her new film,
Love Is War
, where she stars as the character, Yinka.
The political-romance drama sees a powerful couple going against one another to run for State Governor. Toke portrays a savage journalist who stops at nothing to ask the hard-hitting questions which the public want answered.
Many have praised Toke
and they are claiming that the movie is one of the best Nigerian productions they have ever seen.
Toke Makinwa Age

Toke was born on the 3rd of November 1984. She is 35 years old. She was born in Onikan`s St. Nicholas Hospital. Toke Makinwa grew up outside Lagos but had to move to Lagos when her parents died.


Toke Makinwa Parents

Sadly, Makinwa's parents passed away. Her mother was Modupe Monica Makinwa, and her father was Caleb Ifemayowa Makinwa.
Toke Makinwa Education
Toke Makinwa Career

Radio

Toke Makinwa`s first job was at Zenith Bank, but she left that job as she felt that she was doing something she was not passionate about. Growing up, Toke always wanted to be in the spotlight and somehow she was certain that she had a future in the media. She had her first radio experience as she awaited her admission into university and she did not give up pursuing that dream.


She is co-host of The Morning Drive show on Rhythm 93.7FM. She is never shorts of words to keep entertaining her millions of fans and this saw her launch her own late night show Rythms of the Night on Rhythm 93.7FM. She has also worked with Tyson Bucknor and Oreka Godis where they have co-hosted Flytime Entertainment's online show 3 Live Chicks.

TV

2014 saw her take her talent to TV. She landed a gig and soon became a star of the show called Trending on HipTV. In the same year, Makinwa was featured in Moments with Mo. She was filmed in several episodes of this show on EbonyLife TV.

Ms. Makinwa has been featured in major editorials including Exquisite Magazine, ThisDay Style, City People, Fashion TV and Complete Fashion Magazine, garnering attention for her petite figure but rivetting personality. As a skilled hostess, she was chosen to anchor the 25th edition of the Most Beautiful Girl in Nigeria Pageant

Awards

She was the first Nigerian to be nominated for the Nickelodeon Kids Choice Award in 2013 and later she was nominated twice for the Nigerian entertainment awards.

2012 - On-Air Personality of the Year' at the Future Awards.
2013 - Outstanding Female Presenter of the Year Nigeria Broadcasters Award
2013 - Radio OAP of the Year' in the Nigeria Entertainment Awards.

She became the brand ambassador and face of Mecran Cosmetics. She was also an ambassador for Payporte and Ciroc.



Toke Makinwa Marriage

It was in a private ceremony when Toke got married. Makinwa's husband was Maje Ayida. However, the couple separated in 2015. The reason for this was quite scandalous. It was disclosed that Maje Ayida impregnated his ex-girlfriend.


Toke Makinwa Sugar Daddy

Early in 2017, rumors emerged about her having an affair with a 70-year-old billionaire, Dr. Festus Fadeyi. The billionaire, said to be married with five grown boys from his wife of many years, allegedly bought Toke a brand-new Range Rover 2016 model worth over N50 million.




He was also reportedly responsible for her costly purchases and designer bags and shoes from Louboutin, Bottega, and other high-end brands. Neither party denied nor confirmed the rumors of the affair. Since then, there have been questions about how she can her finance lavish lifestyle as an on-air personality. She has responded by drawing attention to her personal brand and business as her source of money.


Toke Makinwa Book
Toke has written a book about her life which is titled "On Becoming." The radio personality talks about her struggles, the loss of her parents, and addresses the betrayal by her now ex-husband, Maje Ayida. Toke went on a book tour in Nigeria, South Africa, the U.S, the U.K, and parts of East Africa.
Also read - Yemi Alade Goes Head To Head With Cassper Nyovest
Toke Makinwa Controversy

Skin Bleaching

Skin lightening is still a controversial topic in Africa and especially when it comes to our celebs who are always in the public eye. It is a path that some celebrities have taken in an effort to become more appealing. Toke Makinwa has openly discussed her bleaching journey in her book On Becoming.

She stated that her reasons for bleaching were to bring light to her journey. However, for those who were of different opinions, Toke received so much backlash for such a move. The radio host cited that her now ex-husband Maje Adiya had a preference for light-skinned girls, so she bleached to impress him.

Well, it's true whan they say 'if they throw lemons at you, make lemonade' because Toke Makinwa did just that. In 2018, she partnered with Buluwa Inc. to launch a skin lightening product line called 'Glow by TM.'

Surgery

Toke Makinwa is on the long celebrity list of people who opted for plastic surgery. Speculation about her more voluptuous figure raged in 2018 after she admitted to having undergone fibroid surgery. She first revealed that she had plastic surgery in a Tweet when she was talking about her lessons for the year in review.




Toke is not ashamed of having made such a move and she's even encouraging other women to do the same if they want to change their bodies.



Toke Makinwa Net Worth

Toke has had numerous endorsements deals under her belt as well as other businesses making her have several sources of income. Toke Makinwa's net worth is about $2 million. This makes her one of the richest radio hosts in Nigeria.


Toke Makinwa and Bonang Matheba
A picture of Toke Makinwa went viral and people thought they were seeing double. The social media were lit up with news that they had finally found Bonang's twin, Toke Makinwa.
In the pictures, Toke was seen having a good time in Camps Bay inside a wine cellar, wearing Gert Johan-Coetzee pants; who is also Queen B's go-to designe), a lingerie bodysuit and big angular sunglasses - which is very similar to the House of BNG owner's street-style of late.
Like, can you tell who's who? The two have been best friends forever and their friendship keeps getting stronger.
Read next:
Burna Boy, Wizkid & Cassper Make Good Music
Nigeria's Richest Celebrities

Main image credit: Instagram